Wide Range of Innovative Services provided to Wireless Carriers and Telecom Operators
---
At KCCTech, we bridge Innovative Multi-Vendor Engineering Services with Advanced Technical Field Expertise, coupled with niche Software Solutions to improve KPIs of the existing network while expanding for new Technology, Capacity and Growth with cost avoidance and improve NRO cycle times.

Our Leadership team brings diverse expertise from various different parts of ICT (Information Communication Technology) with many NRO (Network Roll Out) experiences in advanced technology fields across the globe. At KCCTech, we strive to combine advanced technology expertise with niche solutions to build efficiencies and come up with creative solutions to customer problems.

KCCTech has a unique and innovative technique to approach PIM/RTWP challenges on a Carrier's network, that can be used on new carriers and/or operational network to identify and pin point PIM problems both predict or react to identify the root cause of the issue. Especially with the Network getting more complex with additional LTE and 5G Carriers (L600 band , F-NET, etc), strategic partnership and services KCCTech provides is critical to Improve Network quality, Minimize Operational Cost and Improve Network performance to increase Customer Experience. In addition, KCCTech is proud to contribute to the First Responder Network rollout & support Public Safety at National Level.
Our Goal
Our goal is to improve your network performance and provide efficiencies for cost avoidance, so that your network is performing at its utmost capacity to the satisfaction of your end users.
Business Solutions
Running a network is not easy. With KCCTECH services, you will learn solutions to common network management challenges & expand your network with efficiency and advanced Engineering, from the heart of Silicon Valley.
Find Talent
Finding and hiring dependable employees can be exhausting. Let us take away the hassle of finding the right resources.
Contact Us
Whether you want us to provide you specific Engineering or Field Services or help augment resources; we can help!

---
KCCTech Services & Tools
We strive to help Network Operators develop a solid foundation and network growth strategy so they can be successful in Technology race. We work 24/7 to improve network quality, network productivity, project execution, resource management and most importantly customer satisfaction. Find out how we can help you and your network today!
---
Engineering Services
(Multi-Vendor & Multi-Technologies)
Multi Vendor Expertise
Integration & Commissioning (LTE and 5G Services) with Low Level Design
RF Optimization Engineering
RAN/UTRAN Engineering
Engineering Consulting
Software Development
Construction Support Services (WAR Room)
Private Network Services on CBRS (Citizens Broadband Radio Services)
Field Services
(Multi-Vendor & Multi-Technologies)
Installation, Integration and Commissioning Services
RTWP / High Uplink RSSI (PIM) Troubleshooting & Resolution
PIM Site Hygiene & PIM Hunting Services
Power Upgrade
Transport Modernization
Site Configuration Changes
KCCTech Innovative Tools and Software Solutions:
PiMThor: Patented Uplink Analysis Tool to Analyze and Categorize problems
PCC: Parameter Consistency Checker - Golden Standard Parameter Validator
Master Health Check Tool: Network Level Health Check
P-MME: Private MME for Multi-Purpose Use
SELF: Network Self Healing Tool
ESS: Engineering Support Services, KCCTech's Ticketing & Project Management Tool that enables Field Crews to Check into a site, automated Site Health Checks & Reporting
End to End Construction Services
KCCTech and KCN Communications (together as one) are proud to offer multi-state construction, installation, integration and optimization services in a market near you!
Small-cell and macro-cell sites
In-building small cells and distributed antenna systems (DAS)
New site builds
Rooftop and water tank installations
New tower erection
Overlays and antenna modifications
FTTx installation and testing
Microwave backhaul networks
Power plant upgrades
Generator installations
Technology upgrades
HVAC service and maintenance
Tower and structure painting
Lighting repair and replacement
Landscaping and irrigation installation and repair
Storm runoff and drainage repairs
Site Abatement and cleanup
Fence repair or replacement
Erosion control (waddle)
Guy wire tensioning and alignment
Grounding installation and inspection
Vagrant proofing
Graffiti removal
Access road blading and road base services
BACK OFFICE SUPPORT SYSTEM LIFE CYCLE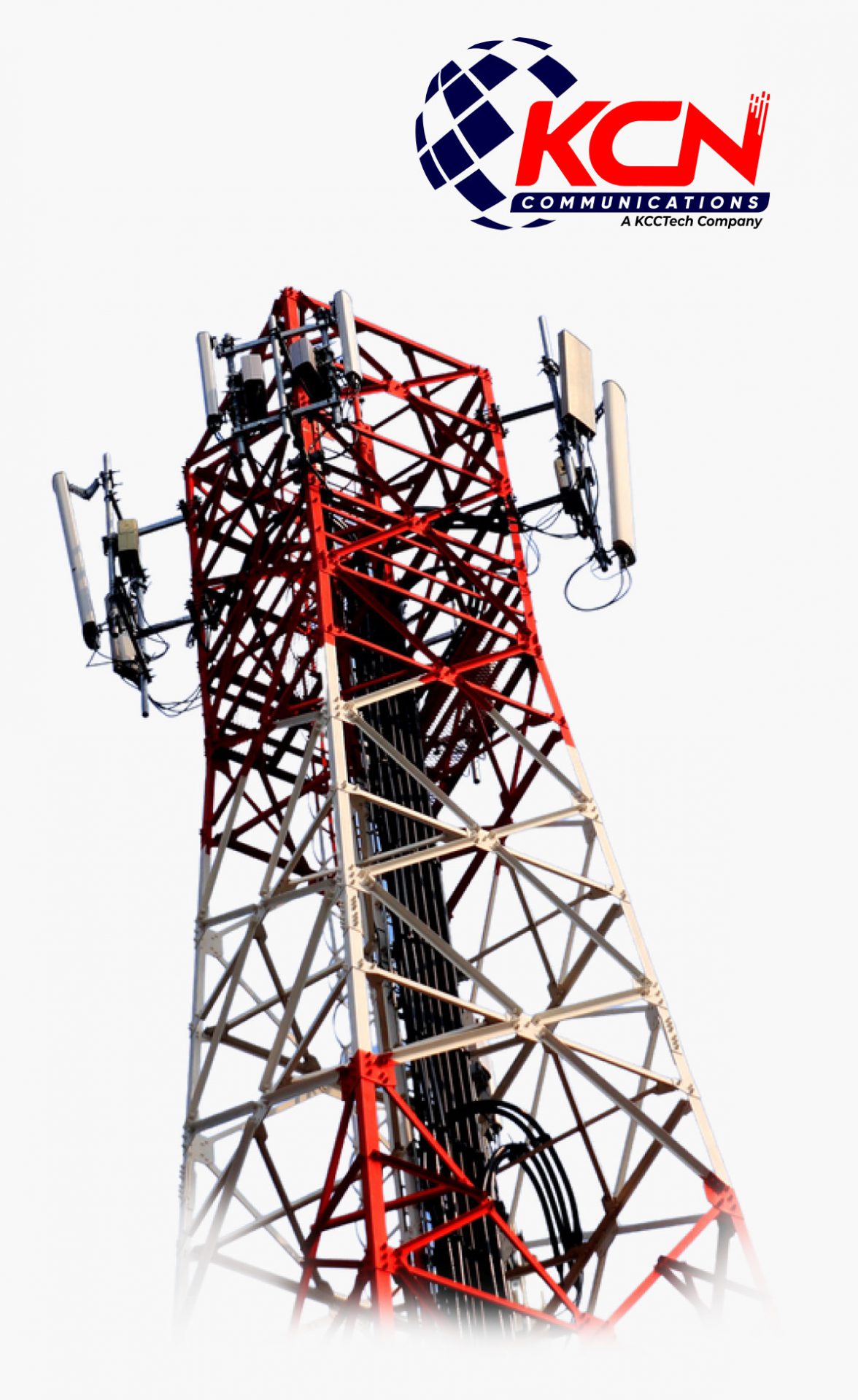 REFERENCES/PROJECTS:
KCCTech is proud to serve major National Wireless Carriers in the US, wireless Operators in Europe and Western Asia, National Turf Vendors in the US, other Vendors and OEMs (Original Equipment Manufacturers) Globally. Below is a sample list of our Past and Active Projects:
Carrier Add & NSB Integration and Commissioning Project
Transport (SIAD) Modernization Project
Antenna Configuration Change Project
High RTWP Investigation Analysis and Back Office Engineering Support Project
5G Overlay Project
Small Cells Rollout Project
C-RAN Design and Integration Project
Site Hygiene Project
PIM Hunting and Resolution Project
F-NET (First Responders Network) Project
Specialized Integration Trainings for Field Team
Call Test/Drive Testing Field Measurements (PSAP/E911)
DAS Design, Optimization & Troubleshooting
Why choose us you may ask.
Engineering guidance & advanced tool intelligence for Field Troubleshooting drastically reduces troubleshooting time with high success accuracy.
Flexible & 24/7




Smart Automation & Scalable




Project/Program Management




Niche Solutions Oriented




Advanced Engineering Consultants




Expertise in Latest Technologies including 5G




Machine Learning with Big Data Analysis




Customized Training for Customers




5G Integration and Commissioning




Accurate Analysis with Efficiency and Results
Contact us for more information
Feel free to call us or send us a message for more information of our services, and how we can help you!